Sizing Chart
Centimeters: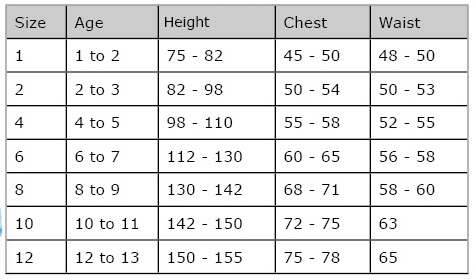 Inches: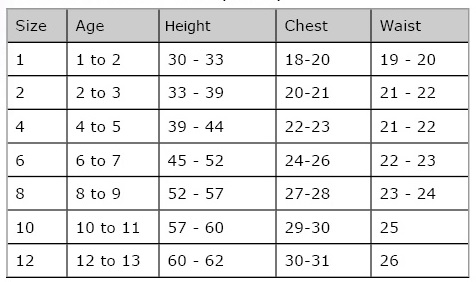 Children's Beach Robe Sizing

The charts above detail standard sizing for Terry Rich Australia beach robes and cover-ups for children. In general, all our garments are quite generous in size to allow for some growth and to make them easier to slip on and off wet kids!

For example a Size 4 beach robe will fit pretty much all three to four year old kids and even some petite five year olds. If thyou review the chart measurements please pay most attention to the height of your child as this is the best measure for a correct fit. Beach Robes and beach cover-ups are by design loose so hips, chest, waist so these measurements are less important.

 Three sizing examples of kids beach robes and beach cover ups for your reference:
• If you are selecting for an average sized four year old, then a Size 2 should last them for a couple of years (while they are two and three).
• If you need to fit a very tall five year old boy, then it would be best to buy a Size 6, so you can be sure to get a couple of years out of your kids beach robe. A Size 6 robe will also be long enough to cover their bottoms when they sit so it will tuck under and keep the car seat dry on the way home!
• We now size down to Size 1 for the littlest splashers. Size 1 of a Terry Rich Australia beach robe for children will be good for nine months through to about two years of age. If it is a little long in the arms in the early stages, these can be rolled up until those little limbs lose their cute chubby rolls and start getting longer!